Just Released: Discourse Issue 22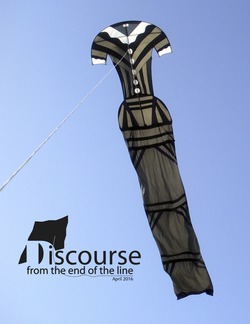 In the spring issue of Discourse: from the end of the line, we interview four personalities from our diverse world of kites: LaRoy Rutledge, Malcolm Goodman, Ben Ruhe, and Melanie Walker; Maria Elena García Autino brings us up to date with many of the collaborative BaToCo projects; and John Brazzale pays tribute to his uncle, kiting great Charlie Sotich.
Download and read Discourse Issue 22 > Download PDF
Educators Creatively Use DF Bamboo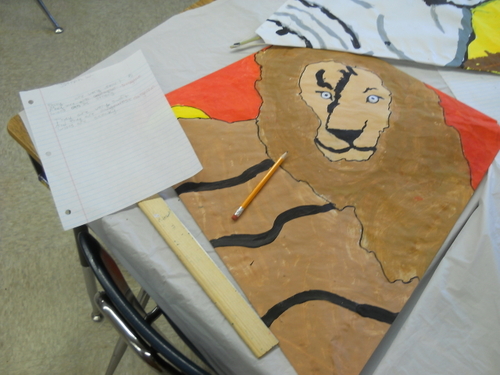 Courtesy Cathy Veblen
Look at the creative ways educators are using our bamboo and teaching with kites! This project comes to us from Cathy Veblen at Corrales Elementary School in New Mexico:
"We will make kites with one 5th grade class instructed by Terry Kominiak. They will be a part of the Corrales Art Studio Tour preview gallery, held this year at the centuries old Old San Ysidro Church during the open studio weekend, along with the exhibition of one piece of artwork from each of 80 studio tour artists from Corrales and surrounding areas. The photos seen here are from the 2015 event.
"Dana van Westrienen and Paul Tenoso will discuss animal totems, how animal symbols are used around the world, how one might choose a totem to represent themselves, and write a Haiku poem about that relationship which will be written on the kite. On the next visit, they will paint their kite paper with their totem design using tempera paints. On the third visit, they will construct diamond kites using Drachen Foundation bamboo kite spars. Then they will be exhibited. Finally, we take them back to the class and they have a long recess out on the field. The windy season in New Mexico is springtime. With a little luck, their kites soar. Instructor Terry Kominiak likes the project because the students help each other in the fun process of kite construction.

Courtesy Cathy Veblen
"This is the Corrales Art Studio Tour website where you can see photos and a YouTube video: http://www.corralesartstudiotour.com/children2016.html
"Paul Tenoso and I, Catherine Veblen, are also artists participating in the C.A.S.T. weekend event and our website is www.anthropottery.com.
"Glad I found the Drachen Foundation!"
– Cathy Veblen, Coralles Elementary School
Buy bamboo from the Drachen Foundation store here:
drachenstore.easystorecreator.net/items/kite-kits/all-kite-kits-and-materials/Bamboo-detail.htm
Kite Zhang's Kites: a Documentary of Mechanical Kites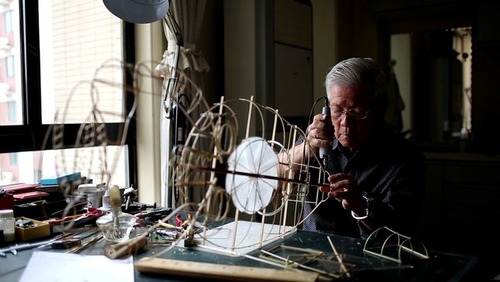 Nathan Yun
Most films begin with a personal passion, and such was the case with young filmmaker Nathan Yun. Throughout his travels in China in 2013, he noticed that many traditional cultural art forms and values were fading away from existence. This is when he encountered one of the most unique kite makers in China, Mr. Zhang. He planned to make a documentary centered on this one artist, using the story to perhaps explain the disappearance and lack of appreciation of China's artists.
Mr. Zhang took a liking to the project and to Yun. He was extremely generous and allowed Yun to live in his kitemaking studio and invited him into his home for meals and social interaction. In this way, Yun was better able to document Mr. Zhang's daily life. Like all good filmmakers, the experience blossomed into filming over several years and he developed an intimate relationship with Mr. Zhang. Using his own funds and with some support from his family, he set out to document. He returned to China to film some missing footage in 2014 and plans an additional trip to obtain all the footage he needs to make this documentary complete.
Filmmaking is a very expensive endeavor. There is equipment, travel, press, and post-production costs. A simple hour and a half documentary can cost many thousands of dollars, even if you own the camera and equipment you use.
Archival film projects like this one need to be done, as there is no better vehicle than film to capture the working world of Mr. Zhang's kites. Watch the short footage of Yun's film and you will be convinced.
"Kite Zhang's Kites" video teaser:
https://vimeo.com/83967790
"Kite Zhang's Kites" Kickstarter project (ended, but page contains much information of interest):
https://www.kickstarter.com/projects/1747407323/kite-zhangs-kites-a-documentary-of-kinetic-kites
Fair Winds,
The Drachen Foundation