Announcing Discourse Issue 20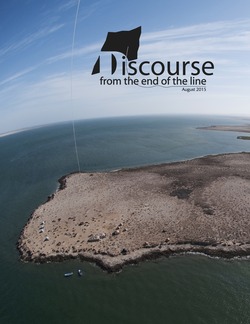 In the summer issue of Discourse: from the end of the line, middle school teacher Chris Skinner explains how he introduced kites into his curriculum, Chris Yuengling-Niles documents the amazing work of American kiting legend Tom Van Sant, we catch up with past Discourse contributors Whitney Richardson and Oscar Frey, Scott Skinner takes you on an excursion into the back room of his kite collection, and Ali Fujino is charmed by the world of Ron and Marla Miller.
Download and read Discourse Issue 20 > Download PDF
A Lasting Kiting Legacy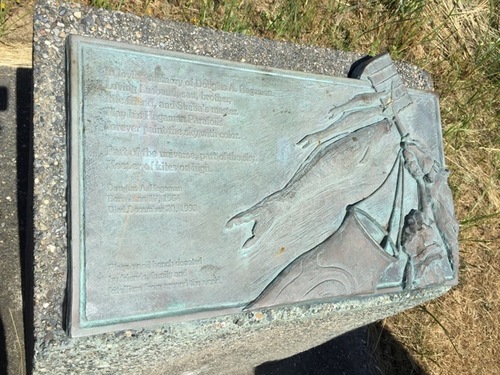 Ali Fujino
It's been 17 years since the most marvelous of parafoilists left the skies of Washington.
An early specialist in the design and execution of the parafoil, Doug Hagaman corresponded with Domina Jalbert and other early experimenters of the form – and then refined the kite for northwest beach winds. His steady, high-flying kites continue to be backdrops at festivals on the Oregon and Washington coasts.
Doug left us in 1998. His passing took the wind out of all our sails.
On July 4th, I drove to Westport, Washington to help a friend move from Westport to a small town east of the beach resort. After the move was over, I took the time to drive to the state park and walked out on the beach trail towards the water.
It was a perfect day, steady winds and clear blue skies. The trail was populated by runners, walkers, and bikers. At various places along the beach I noted a series of benches, constructed of cement and rock. Each bench was designed and constructed the same way. As I walked down the trail and passed one bench after another, one in particular caught my attention.
This was the bench that we all contributed to and purchased to remember Doug. It was a wonderful feeling to renew my friendship with Doug and his kites!
While walking back to my car, I pondered how one's love of kiting could be such an appropriate way to leave a lasting legacy. Whether it is a park bench or a donation to a kiting organization like ours, it is a special way to share the gift of kiting with others.
Donations help to fund our online website and publications. Donations in the name of an individual can be made online by going to: www.drachen.org/donations
– Ali Fujino
What I Love About Kiting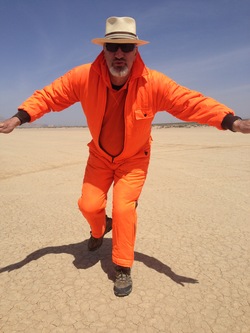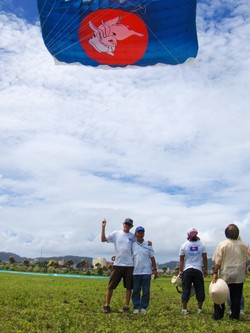 Left: Scott Skinner, one of the many reasons to love kiting. Right: Masaaki Modegi and Blake Pelton, flying the biggest kite in Okinawa.
As we head into the middle of the kiting season (spring has sprung), I find myself reflecting on why I personally have spent more than 21 years in kiting, making kites, archiving kites, documenting kitemakers and kites…
I took the initiative to ask a few individuals the same question. From this casual encounter, I created this list of six reasons. The point is, before the season ends, grab a new friend and get them involved in tethered flight!
1. I love that everyone is moving. Everyone is always moving, making kites, flying kites, going to different places to fly or engage.
2. There is always a chapter wherever you go, someone doing something, an international community.
3. It's a family of friends, connecting with people who have a common interest and who grow with you and become closer than your family at times.

Left: Melanie Walker, artist and kitemaker, Colorado. Right: Istvan Bodoczky, artist and kitemaker, Hungary.
4. The materials make it easy for you to build and afford a kite that flies.
5. Kiters are always having so much fun, even outside of the kiting! Camaraderie and unexpected things come beyond kite flying.
6. There is fun in the exchange of ideas and the challenges to get them done. I love hearing about the group effort to get kiters to make a kite.
– Ali Fujino with Scott Skinner, Jose Sainz, and Chris Yuengling-Niles
Fair Winds,
The Drachen Foundation